Water Features and Garden Ornaments in Perth
Beautifully handcrafted Balinese water features and garden ornaments to transform your outdoor area
Bali Gardens & Stone offers beautiful outdoor water features and accessories such as pebbles and outdoor statues at affordable prices. Our products are imported directly from overseas suppliers and each one is carefully selected to ensure we meet the eclectic and distinct styles of our discerning clients. You can completely overhaul your alfresco entertainment or relaxation area with our products, and we look forward to assisting you.
We offer a range of traditional or contemporary outdoor garden features to perfectly complement your outdoor living space. You will find ideal water features, river stones, garden statues, outdoor garden pots and much more at Bali Garden & Stone. We've chosen these stunning pieces, each of which individually add a world of charm and an air of opulence to your large or small outside area.
If you prefer less maintenance, choose a user-friendly, self-contained water feature that only needs to be plugged into the wall. Perhaps you would like a more elaborate design that requires a full installation? We can assist you with  your water feature delivery and installation.
View our extensive range of perfectly crafted outdoor accessories, which are available in various designs that will add a dynamic element of style to any garden. Transform your patio, garden, alfresco kitchen or pool areas from something simple to a stunning space that exudes a comfortable ambience with beautiful features.
Bali Garden & Stone's exotic garden products are designed to withstand harsh weather conditions. Sourced from reputable suppliers, our products are hardy, durable and stylish and our lovely array of garden ornaments can be combined to create beautiful gardens.
Balinese Decor Ideas
Bali is known for its picturesque views and prowess as a stunning getaway, littered with resorts that always find a special place in the memories of those who visit them. A trip to Bali may not be on the cards but we have a host of Balinese decor ideas that can help you bring the simple yet sophisticated blend of nature, light and open space to your home today.
Our comprehensive range of outdoor products will help transform your outdoor living space from run-of-the-mill garden area into a Balinese paradise with Balinese outdoor wall art and Bali water features. In addition to these Bali garden decor products, we also have a host of exciting Balinese landscaping pool ideas for you to explore.
Get in touch today, and bring the best of Bali home to your garden area.
Contact us, or visit us today and purchase any one of our stunning garden ornaments and accessories, and see your outdoor area transformed.
Delivery of our Products
We supply a wide range of garden ornaments, water features and landscape supplies, which we can also deliver to your home. 
Earthworks – Clearing/Preparing
Are you thinking about redoing the garden, installing a shed and need a sand pad?  Or perhaps you need to clear the space for a bigger outdoor deck, but you can't face the idea of  preparing the site.
Free courtesy Trailer Hire
We offer a FREE two hour loan of one of our courtesy trailers with the purchase of any product.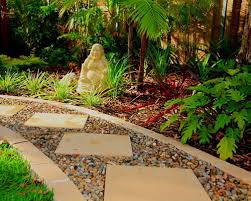 Landscaping and Reticulation Services
Does your garden need a new face? We offer a full landscaping service to ensure you get the best out of your garden space.